News
Clayton Team Member Moves into Her Dream Home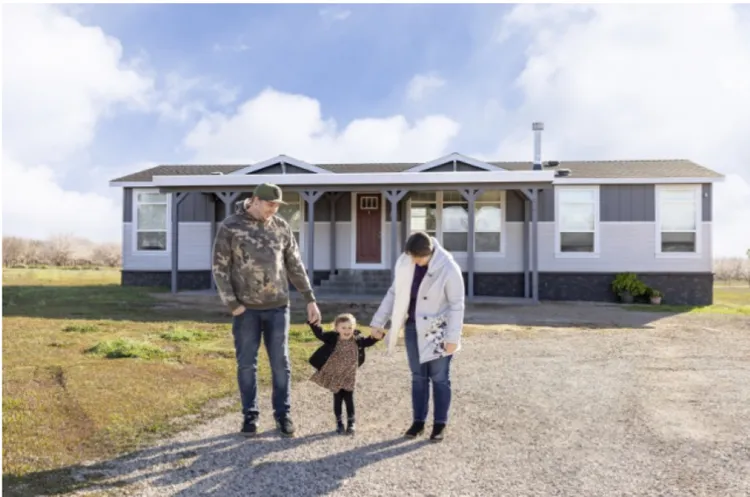 When Danica Vincon's home burned down in the Camp Fire in Paradise, CA, she wasn't sure she could find another place to truly call home. But now, less than two years later, she and her partner Jesse are raising their daughter in their dream home from Clayton.
In 2018, Paradise, CA, was at the epicenter of the Camp Fire, which was caused by a neglected piece of electrical equipment. The fire wiped out about 18,000 structures in the area, including residential homes like Danica and Jesse's. At the time, Danica lived in the area and worked at the local hospital. After losing their home, Danica and Jesse lived with Jesse's brother for a few months before moving into their trailer at a campground for eight months. Eventually, they were able to move their trailer onto their property. "We actually lived in our trailer for almost 3 years," Danica said. "Cooking was hard, so we ate out a lot and spent on our credit cards. Getting our credit card down to where we wanted it to be for a home loan was a struggle."
A NEW HOME AND JOB
About a year after the fire, Danica and Jesse went to a home show, came across Clayton Homes of Oroville and made an appointment to visit the home center to learn more about buying a Clayton home. When they visited, Danica found out she would need a job in order to get a home loan, but the hospital she worked at had closed due to the fire. A few minutes after leaving the home center, the Manager, Dustin Youngdahl called and asked if Danica would like to interview for a home consultant job. She got the job and has been a Clayton team member since November 2019.
A CUSTOM HOME OF THEIR DREAMS
About a year after Danica started her job with Clayton, she and Jesse were ready to build their new home. They had already bought property outside of Paradise and knew they were going to build their new home there, instead of in town where their previous home was. And when they started their paperwork, Danica found out their previous home in Paradise was actually Clayton home, which she did not know. Now, she had the opportunity to build the Clayton home of her dreams with custom features that fit her, Jesse's and Soryah's needs. "It's different when you move into a new, custom home," Jesse said. "Everything is new."
We accept trades!
Find a new home you love? Contact us for more information about our trade-in requirements and to schedule your free trade evaluation.
Learn More